Jevon O'Neill - Producer and Director
Jevon started Hubbleberry in 1991 which suddenly seems a long, long time ago. He's directed commercials for newspapers (The Sun, The Sunday Times, Daily Express, The Business), supermarkets (Morrisons), insurance companies (AXA Sun Life Direct), charities (St Mungo's, RSPCA), DIY products (No More Nails, Unibond Minis, Sellotape, Pritt Stick) food products (New York Bagels) in fact... well, let's just say he's directed a lot of ads. And produced them all too. Which is kind of different. But seems to work! In addition, he's an award winning features writer, director and producer, with two produced movies to his name.

Mike Lacey - Director
Michael (let's call him Michael) studied at a Manchester film school and, after graduating, was soon directing corporate commercials and videos for MacDonald's, John Lewis, British Gas, TNT, Nissan and Unibond. Armed with something to say, Michael then wrote and directed a ten minute short film which went on to represent the British Film Council in major film festivals. Three months later a door opened in the competitive world of continuous drama and to-date he has now directed over 40 episodes of ITV1's Emmerdale.

Bob Maddams - Director
Bob is an experienced copywriter and director having written over 300 TV commercials and directed TV commercials, viral videos, corporate films and broadcast documentaries. His clients have included Blackpool Pleasure Beach, Harveys Furniture Stores, Nat West, Honda, The Daily Mirror, The Media Trust and Roche Pharmaceuticals. For ten years Bob worked in Ethiopia writing and directring behaviour change drama films for the United Nations and various aid agencies. Soho House it wasn't.

Fiona O'Neill - Finance Director
Fiona's been with the company pretty much since day one. You'll talk to her about terms of payment, setting up accounts and all matters financial. She runs a formidably tight ship, takes great pride in paying our crews within a couple of weeks of shooting and likes to occasionally escape from the office by traveling all of 20 metres into her garden.

Carl Shuck - Executive Producer
Carl comes from an agency production background. An ex board director of Abbot Mead Vickers he looks after hubbleberry's business development and is always available to oversee our productions. Branding, marketing strategy and joined-up thinking are his specialities which makes our eyes glaze over a little but is essential in understanding where our clients are ultimately coming from. For some unknown reason this son of Somerset supports West Brom.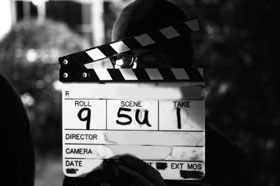 The Team...
Greater than the sum of its parts
That's what any team should be. Key personnel, yes. Movers and shakers, yes. Reliable footsoldiers, of course. We'll bring all these elements to your production but, however we put together the team, you can rest assured that it will work smoothly and efficiently. There will be top technicians, first class facilities and most importantly, the finest bacon sandwiches available on any production. We love picking and choosing the right people for your job, not simply people we happen to have on salary. Those on the left are our key people. There are many, many more.